Taeyeon of was involved in a 3-car crash in Gangnam on Tuesday, November 28 at around 8 P.M. KST. She was reportedly taken to hospital and suffering chest pains. The Audi driver and two taxi passengers were also transported to the hospital.
Following the accident, SM Entertainment which represents the girl group released a statement, saying that the star was at fault for the incident. "Today at around 7:40 P.M., Taeyeon, who was traveling for a personal schedule near Nonhyun-dong, was in a traffic accident due to her careless driving. She feels sorry to the drivers and passengers of the taxi and will do her best to deal with the accident situation," the agency stated.
As for the "Starlight" songstress' condition, the label said, "After taking measures for the traffic accident, Taeyeon is returning home and is in stable condition. We apologize for causing worry."
Meanwhile, a victim of the car crash complained that Taeyeon received special treatment because of her celebrity status. In a lengthy post on Instagram, the netizen wrote, "I really didn't want to post something like this after an accident but I just have to because I'm so angry. She rammed into two cars at a stop. The windows of the car in the middle all shattered, the airbags busted, and all the glass pieces pierced into our bodies and clothes but just because the driver is a famous female idol, they were telling the other victims to wait and trying to take her to the hospital first."
"The police and the emergency crew were asking if we needed to go to the hospital when our cars have been totaled by getting hit and pushed from the behind. The taxi driver was spilling blood from his neck but they were saying it's okay, it's just a scratch. When I asked if the taxi driver could sit in the emergency truck for a bit to calm himself, they wouldn't allow him because the driver (Taeyeon) had to get in the emergency truck. The driver (Taeyeon) came out and asked if we were okay. She then patted our backs as if she's cheering up her servants," the victim continued ranting.
"In the emergency room, one of the emergency crew members was giggling, saying we should take pictures. One of the nurses said the roads must be slippery nowadays and asked if the driver of the last car (Taeyeon) came to the hospital or not. What the hell? The people who are supposed to be saving lives were giggling and laughing in front of the patients, and taking care of a celebrity first. How cool. I guess fame and popularity are good after all. #Taeyeon #carcrash."
Another netizen claiming to be the towing truck driver at the scene has come to Taeyeon's defense. Explaining the situation, he said, "Taeyeon was very shocked after the crash and was filing insurance claims first. The police and the emergency truck came later. The drivers and passengers stood by waiting for the emergency truck. Taeyeon's airbag has deployed on the driver side so she expressed pain in her chest. She was also dizzy from the smoke but continued to file the insurance sitting down."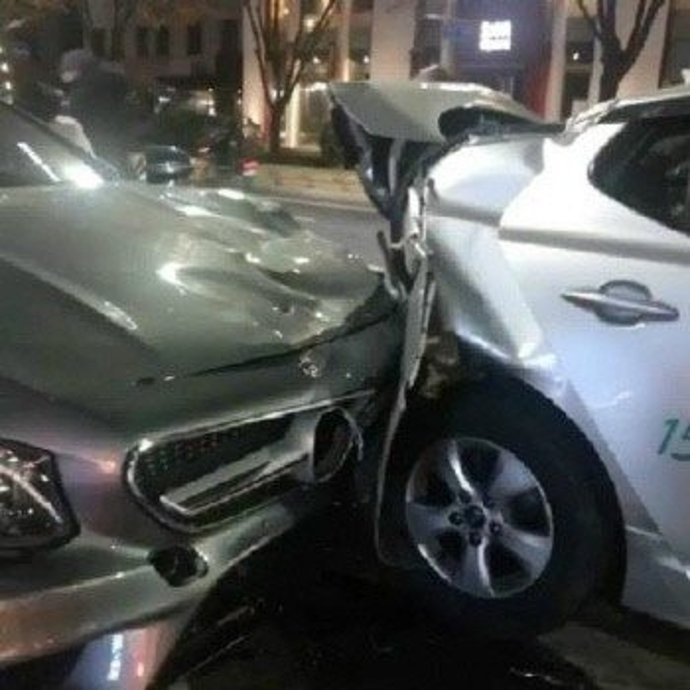 He went on detailing, while sharing photos from the car crash, "When the emergency truck arrived, the crew looked out for the injured first. Honestly, they were chattering because she's a celebrity but they talked about her being a celebrity later on after completing the basic treatment. Also, Taeyeon didn't get on the emergency truck. She didn't even go near it. Her manager came and she was transferred to the hospital in her manager's car."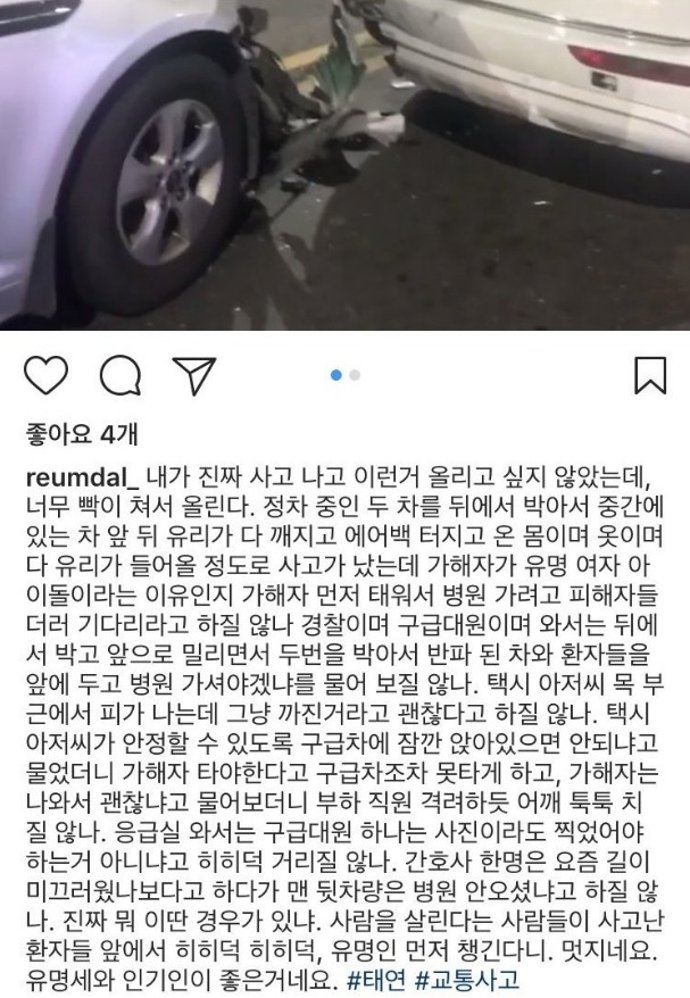 The towing truck driver said Taeyeon and the other drivers took alcohol level test, but it was revealed no alcohol drinking was involved. "It's true the taxi driver was bleeding but he was busy taking care of the insurance and pushed away the emergency crew, saying that he's okay," he added. "Lastly, I'm not a fan of Taeyeon but I kept conversing with her on the side. She was showing concerns for the car owners' and the passengers while shivering."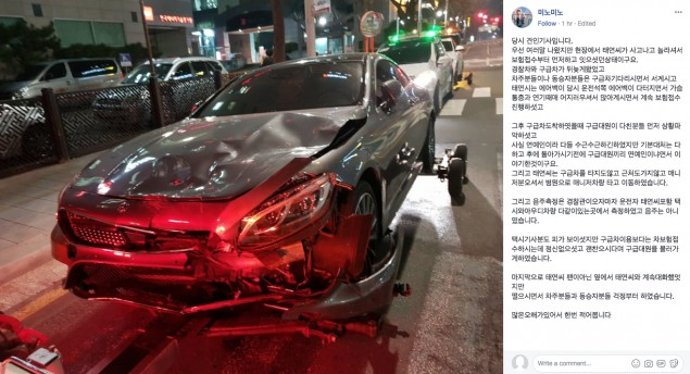 Police also confirmed that there's no alcohol in Taeyeon's blood during the accident. A source from the Nonhyeon Police Station said to news outlet OSEN, "We give out a sobriety test if there is suspicion of drinking. However, in Taeyeon's case, there was no alcohol detected [in her system], which is why we did not measure her blood alcohol level."
There were also rumors that her pet dog Ginger was in her car at the time of the car crash. Regarding this, the police said, "It's not yet confirmed if her pet dog was sitting in the passenger seat at the time." Another insider responded, "I've not heard anything about her pet's involvement in the accident."